CARD BASED
RF (Radio Frequency) Card is a touch-free card that uses a wireless frequency. With an embedded RF chip and antenna, the card can transmit data to a terminal.
Most RF Cards on the market use a low frequency of 125KHz, or a high frequency of 13.56MHz. Low frequency cards (125KHz) are classified into TEMIC and EM cards, depending on the type of chip inside the card.
Security companies, such as S-One, CAPS, or KT Telecop, generally issue these cards.
High frequency cards (13.56MHz; RF Smart Cards) use Philips (Milfare) or Infineon chips that have been certified to ISO14443A/B.
Compact and Slim Design! Card Identification Access Control System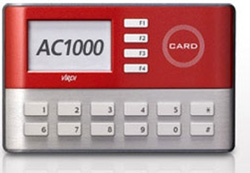 VIRDI RF/Smart card authentication system is widely applicable to various business solutions through TCP/IP networked application software. We guarantee the advantage of high reliability and cost effectiveness.
SPECIFICATIONS
| | | |
| --- | --- | --- |
| Items | : | AC-1000RF |
| CPU | : | 32 Bit RISC CPU |
| Card Capacity | : | Default (2M) : 10,000 / Option (4M) : 20,000 |
| Event Log Data | : | 20,000 |
| Card | : | 125 KHz proximity card |
| LCD display | : | 128 ¡¿ 64 Graphic Display LCD |
| Communications | : | TCP/IP, 2 RS-232C, 1 Wiegand, 1 RS-485 |
| Lock Control | : | 2 ports control motor lock or 1 port control EM/Strike/Deadbolt lock |
| Power Consumption | : | Max DC 12V / 450mA |
| Operation Environment | : | -20 ~ 50¡ÆC / Lower than 90% RH (Non-condensing) |
| Verification (1:1) Time | : | < 0.1 sec |
| Available S/W | : | Access control, Time & Attendance |
| Dimension | : | 140(W) X 89(H) X 28(D) mm |