A public address or "PA" system is an electronic amplification system with a mixer, amplifier and loudspeakers, used to reinforce a given sound, e.g., a person making a speech, prerecorded music, or message, and distributing the sound throughout a venue. PA systems are often used in venues such as school churches in institutional and commercial buildings, to read announcements or declare states of emergency. Intercom systems, which are often used in schools, also have microphones in each room so that the occupants can reply to the central office.
Ceiling Mounted Speakers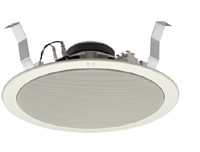 This speaker ceiling mount for in-ceiling or in-wall speakers can be easily installed to add a customized look.
The mount works in standard drywall, but includes beveled screw holes also for other applications. The ABS construction allows over painting to match any imaginable decor.
Amplifier MIC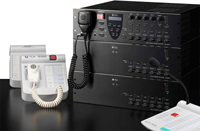 This amplifier has four microphone input, and separate emergency and music input. Additional functionality like priority assignment, VOX switching, speech filter and two-tone chimes are also provided. You can add Plena booster amplifiers to increase the loudspeaker driving capability.
The dual-zone model directs sound (announcements or background music) to two separate areas – very useful if announcements or background music need not to be heard everywhere. Two front panel switches direct the output to the separate zone.
Gooseneck MIC
The gooseneck microphone is a stylish high quality unidirectional condenser microphone, mainly intended for public address applications.
Features
-> Unidirectional condenser microphone
-> Flexible stem
-> Phantom powered by amplifier
-> On/off sliding switch with priority contact
Stand MIC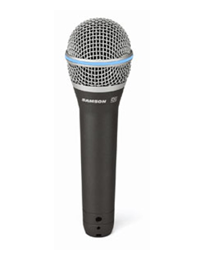 With this unidirectional microphone, we provide impressive audio performance at an economical price. The LBC 2900/xx is based on a dynamic transducer element that is designed for high speech intelligibility. Its rugged enclosure is both stylish and easy to use in a wide range of public and sound reinforcement applications.
Features
-> Unidirectional dynamic microphone
-> Handheld or stand-mounted use with clip (supplied)
-> Rugged construction
-> Modern non-reflective dark grey finish
Wall Mounted Speakers
Wall-mounted speakers have become a part of many offices and homes due to the flexibility in space it provides. The advantage of wall-mounted speakers over the conventional speakers is its compact size and that there is no floor space lost. Wall mounted speakers have fewer distortions as the cone moves less. Wall-mounted speakers do not need filters, as there are fewer components in the signal path. These speakers produce better stereo sound than the conventional speakers.